ABOUT LORD HOWE ISLAND
Lord Howe Island is a World Heritage-listed island located around 600km off the north coast of NSW and less than two hours' flight from Brisbane or Sydney. Along the island's 10km west coast lies the stunning sandy semi-enclosed sheltered coral reef lagoon.
Most of the population lives in the north part of the island, while the south is dominated by forested hills rising to Mount Gower (875m) which is the highest point on the island. The island's geological origins date back over 7 million years to the highly eroded remains of a shield volcano, the product of eruptions that lasted for about a half-million years.
Today, only 400 visitors are permitted on Lord Howe at any one time, ensuring the island remains unspoilt. The island's outstanding natural beauty includes a rare collection of birds, plants and marine life, and the world's southernmost coral reef.
The pristine waters surrounding the island are teeming a unique combination of tropical, subtropical and temperate marine life.There are almost 500 fish species including Yellowtail, Kingfish, Bluefish, Marlin, Tuna and hundreds of tropical species. Over 80 species of coral occur in the reefs surrounding the islands.
The island's unique species of birds can be seen throughout the island and the Lord Howe Woodhen, Golden Whistler, Silvereye and Currawong are found nowhere else in the world. The island is seasonal habitat to millions of seabirds such as Noddy terns, White terns, Sooty terns, Muttonbirds, Black winged petrels and Red-tailed tropic birds. Some migrate from as far as Siberia each year to breed.
In combination with a warm climate, vibrant local community and relaxing atmosphere, Lord Howe is the perfect destination for all ages.
SEASONAL GUIDES
Choose a season and download our detailed information…

Monthly weather insights (water temperature, air temperature, rain), what to bring, what NOT to miss, seasonal tips and more!
FREQUENTLY ASKED QUESTIONS
COVID-19 Safety
admin
2020-07-04T02:36:14+00:00
Lord Howe Environmental Tours is always committed to ensuring the safety of our staff and customers. Our business practices have been updated to align with Government COVID-safety guidelines.
We want you all to know we are taking the current health crisis very seriously and will always put your health and safety at the forefront of our operations.
In addition to our existing safety measures, we have implemented some new protocols to help you feel at ease whilst on our tours.
Physical Distancing
Physical distancing can be difficult, especially when travelling or doing activities. Our tours have been assessed for maximum capacity, adhering to social physical distancing guidelines and we will be strictly complying with these measures. We have also installed relevant signage so you are aware of the current requirements.
Hygiene
Sanitizer will be available at all areas of our business. We have also taken measures to ensure our team are limiting any unnecessary contact. We request that you use contactless payment if at all possible.
Cleaning
We have increased our cleaning protocols in all areas of our businesses and will ensure all frequently used areas are regularly cleaned and sanitized as per the local health department guidelines.
Contact Tracing
Prior to taking a tour with us, you will be required to provide a current phone number, email address, residential address, accommodation and your full name in order to complete your activity. Your personal data may be provided to official government bodies to help stop the spread of any health outbreaks.
Cancellation flexibility
We know that travel during 2020 needs to be more flexible due to frequently changing travel requirements, so we have updated our cancellation policy to allow changes up to 24 hours before your scheduled tour. If you are feeling unwell, please contact us prior to your tour and we can make changes within the 24 hour period. If you are unwell or have any symptoms, please do not attend your tour and call the Lord Howe Island hospital on 6563 2000.
SEVEN DAY ITINERARY
Day 1

If weather conditions are favourable, enjoy a Coral Viewing. Follow this relaxing tour with a walk along Lagoon Beach.
Day 2
Climb to Kim's Lookout & Malabar. This walk is not only scenically spectacular but will provide a great overview of the Islands stunning topography and layout. Following this strenuous climb, enjoy a relaxing afternoon or morning tea at one of the Islands cafes.
Day 3
Relax at Ned's Beach, snorkel this beautiful reef site and enjoy a picnic lunch.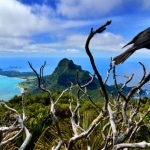 Day 4
Take a guided Mt Gower Trek. This all day trek is rated as one of the worlds top day walks.
Day 5
Relaxing massage at one of the Islands day spars. Cycle to Blinky beach for a surf or a beach walk.
Day 6
Enjoy the stunning, crystal clear expanse of the Islands lagoon with a stand-up paddle board session or a kayaking tour. Walk to the Clear Place and relax in the serenity of this amazing palm forest.
Day 7
Relax and have a leisurely breakfast at one of the Islands cafes.
FIVE DAY ITINERARY
Day 1
If weather conditions are favourable, enjoy a Coral Viewing. Follow this relaxing tour with a cycle to the southern end of Lagoon Road and then a short walk to Little Island.
Day 2
Stroll up Transit Hill to the viewing platform which will provide you with a beautiful panoramic view of the Island.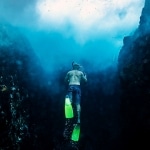 Day 3
Picnic lunch at Lover's Bay followed by Snorkelling to four of the lagoons stunning coral reefs.
Day 4
Take the North Bay & North Head tour with Island Naturalist Dean.
Day 5
Snorkel with Turtles at Old Settlement Beach.
WEATHER
Sea breezes prevent the summers from being too hot, while surrounding warm seas ensure pleasant winters. Maximum temperatures on the island hover around 25 degrees Celsius throughout summer, dipping to an average of 19 degrees in winter, while daily minimums range from 20C in summer falling to around 12-14C in winter.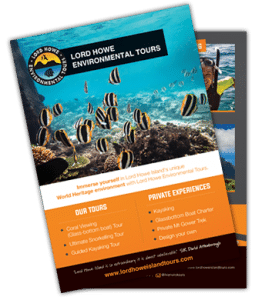 DOWNLOAD BROCHURE
Download our brochure for more information about our fantastic tours!